Addition of NOTAM Viewer to the AeroBOSS Software Suite provides an integrated common operational picture of surface conditions, flight and vehicle operations at airports of all sizes.
FRISCO, TEXAS – April 19, 2022 (Globe Newswire) – INDMEX Aviation announced the launch of its NOTAM Viewer module, a component of its AeroBOSS Software Suite; a low-cost Collaborative Decision Making (CDM) and Surface Management System (SMS) for airports of all sizes.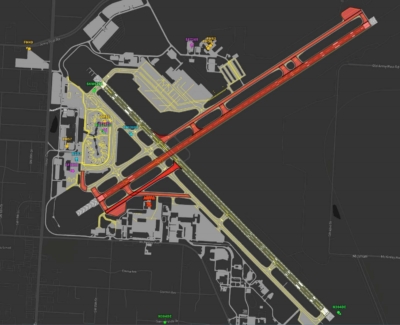 The addition of surface and pavement NOTAMS to the AeroBOSS Suite provides airports with the ability to visualize surface conditions at their own airport as a map view. Driven by the airports own inputs into the FAA NOTAM Manager System, the system graphically displays any taxiway and runway area that is closed for operations seamlessly, via the advanced and integrated map visualization tool that is AeroBOSS.
"We are excited to provide an additional layer of safety for airports of all sizes and differing levels of operations", said, Vish Subramanian, Chief Technology Officer of INDMEX. "By presenting critical surface condition information at the airport, we are able to provide an intuitive and integrated display that combines critical surface data, ground vehicle positions, and flight operations for all stakeholders, all displayed effectively in a 100% web-based tool."
"As an organization that focuses on software development, INDMEX has the ability to quickly develop new capabilities and functionality for its AeroBOSS Suite," said, Carlos Nevarez, Chief Executive Officer of INDMEX. "We are in a unique position to leverage a software development team that accounts for over 90% of our staff. Listening to clients and understanding their needs and wishes, in conjunction with our extensive software team, allows us to respond in an agile manner, to better satisfy clients. This has allowed us to grow AeroBOSS into the award-winning system that it is today, and will allow us to continue further development of key functionality for the airport market."
AeroBOSS is currently in use at over 25 airports across the United States and Europe; furthermore, the system is installed in over 1,100 ground vehicles, where it provides vehicle tracking and runway incursion prevention capabilities that are compliant with the FAA's Advisory Circular for Runway Incursion Warning Systems.
INDMEX is a technology company focused on airport and commercial aviation products and services. They are a leading provider of web and mobile applications intent on providing a common operational picture that make it easy and cost-effective for airport stakeholders to improve safety, effectively manage resources, and facilitate collaboration amongst all personnel. Established by surveillance and information technology experts, INDMEX delivers a new standard in solutions to the global aerospace community. For more information, please visit www.indmexaviation.com.